81% of consumers research online before visiting a store. A critical factor in your customer experience is the online to in person or showroom transition a customer has to make. The easier that transition is, the more likely you'll be to earn there business.
This part of the customer journey is especially important because it happens so early on in the sales process. If your business prides itself on service, you'll never have a chance to demonstrate that service if you don't make it easy for your customer to get what they need online – which is often their first interaction with your business, and ultimately, your brand.
Aside from the basics (have a mobile friendly site, etc.), here are three easy ways to make sure you nail this transition:
List Your Products/Inventory Online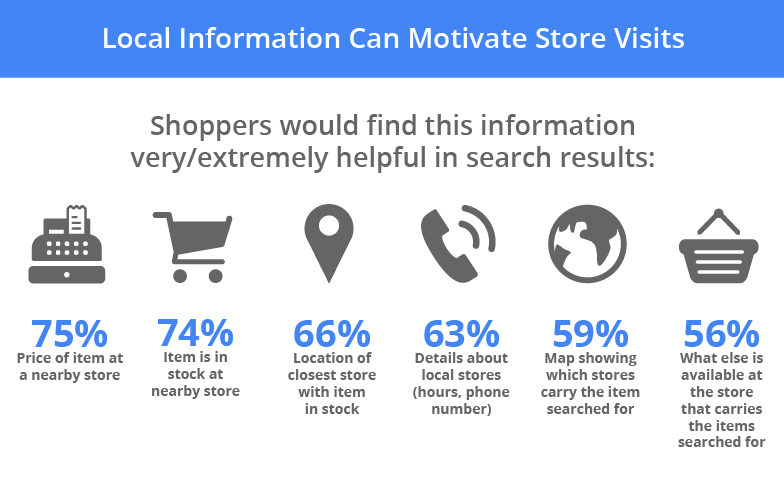 source: www.thinkwithgoogle.com
This is a no brainer and very in demand. Despite all their trouble, Sears saw a 122% increase in store visits when they started displaying their in stock inventory with their Google ads. There are tools that make it easy to do this, a quick Google search and I landed here: http://www.godatafeed.com/
Displaying in stock inventory can be tricky particularly if you have to special order frequently. If you can't do that, definitely make sure customers can easily figure out what products you carry and regularly stock.
This too comes back to the basic principle of making it easy for someone to buy from you. If they don't know what products you have, or whether or not the items are in stock, they're less likely to bother to make an effort to come see you.
Make sure your contact information is easily available
Your "info@yourbusiness.com" email does not qualify! At the end of the day, people buy from people. So if customers can't get an idea of what type of people they're buying from, they're much more likely to move on.
Make sure you display the proper contact info for any customer facing roles. If you funnel all your online traffic through one salesperson, make sure it's easy to find their info. Again, if this information isn't available, it's one more point of friction for a customer – if it's hard for them to find this it'll make it harder for them to justify coming to your place of business.
Promptly respond to and follow up on inquiries
In the same vein as making contact info available, when someone does take the time to reach out, make sure you're responding promptly. And more than once. A simple "one and done" approach here isn't going to do it.
I'm shocked by how many people still tell me "oh, we wait for the customer to call us, they'll call us if they want to buy."
If this is your approach, they probably won't call you. They'll buy from someone who actually pays attention to them 😀
The big keys here:
Respond to an inquiry as quickly as possible
Follow up multiple times – ideally, more than 5
Why respond so quickly? According to The Lead Response Management Study your best chance of closing a sale is within the first 30min of an inquiry.
The odds of calling to contact a lead decrease by over 10 times in the 1st hour.
Lastly, it takes an between 5 to 12 contacts for the average sale to close. Clearly, the one and done will not do!
Conclusion
These three steps should help you make your customer journey and resulting customer experience seamless. Good luck out there!
Additional Reading:
Think with Google: I-Want-to-Go Moments: From Search to Store
Think with Google: Mobile Search Moments – Creating Moments That Matter